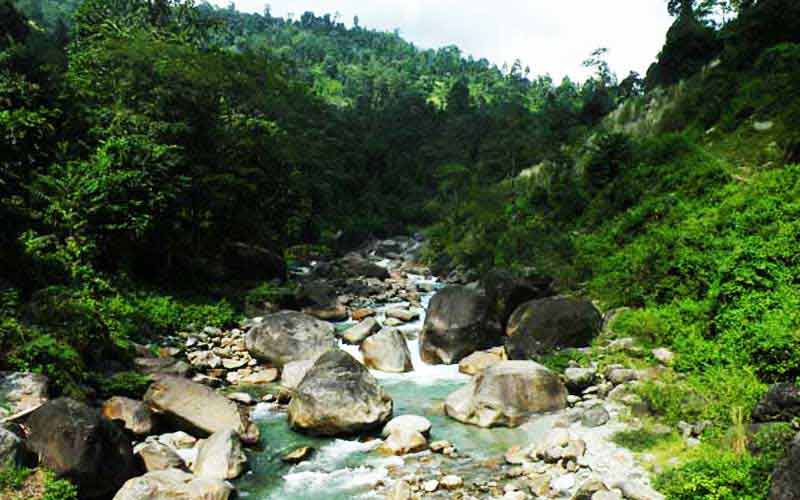 Sited along the bank of meandering river Murti amidst the verdant emerald green woodland of Dooars region is a picturesque destination called Rocky Island. Located 82km from Siliguri, Rocky Island is a new found destination which is endowed with abundance of natural rock hence the name Rocky Island. Rocky Island with its serene ambiance and pictorial views has become a favored destination of North Bengal for the nature lovers traveling in Dooars.
What to See Rocky Island?
The journey towards Rocky Island is a blissful experience filled with astounding views of flora and fauna. Located 2km from Samsing, the uphill road leading towards Rocky Island is an eye pleaser for the traveler who loves to enjoy the beauty of serene the view of verdant jungle to lush tea garden will be accompanying the tourist throughout the journey. Endowed with amazing collection of natural rocks like Hansdunga, Neel Kanta, Bhimsen and Pathar Kailas, Rocky Island has become a favored destination for partaking in adventure activity like rock climbing. Cuddled in the Himalayan foothills, the verdant forest surrounding Rocky Island is sprawled with astounding trekking routes which has caught the interest of adventurer traveling towards Dooars such as Todey and Tangta, two picturesque hamlets located at an elevation of 1500mt they are the closest Indian village located near the Bhutan's western border. There are smaller trekking route in Rocky Island for the tourist who are not willing to opt for a long treks, Mouchuki being one of the routes. Mouchuki is a picturesque spot beside Neora River, which offers the tourists with an enthralling view of the Himalayan Range on one side and lush green plains of Dooars region of the other side. Scenically blessed verdant land Rocky Island harbor a unique combination of serenity and thrill which has made it one of the crown jewel in the field of Dooars tourism. For tourists who are looking forward to spend a laid back weekend, camping along the bank of River Murti is an ideal way to isolate them for the hustle and bustle of rambunctious city life. Listening to the alluring sound of gushing river while sleeping under the sky full of stars can be a surreal feeling which can be experienced during camping in Rocky Island. Angling for katla (name of the fish) in the wandering river Murti is another activity to partake into while visiting Rocky Island. Trekking through the dense lush forest while being mesmerized by the beauty of pristine nature or camping beside the gurgling river stream, Rocky Island with its adventure activities and surreal beauty has become a favored destination of North Bengal for adventurer and nature lover traveling to Dooars region.
Inflate your lungs with the fresh moist forest air while feasting your eye with the pictorial view of sparkling river stream wandering through the lofty mountain hill dotted with semi-tropical forest. Rocky Island is an ideal destination if you are looking for a place which is plunged in the beauty of pristine nature for spending a weekend filled with tranquility.
Best Time to Visit Rocky Island
The beauty of Rocky Island can be relished throughout the year due to its pleasant water but if the tourists want to par take in activities like camping and trekking the best time to visit Rocky Island is during winter season from mid October to December when the sky remains clear and tourist can enjoy the grand vista of Himalayan range.