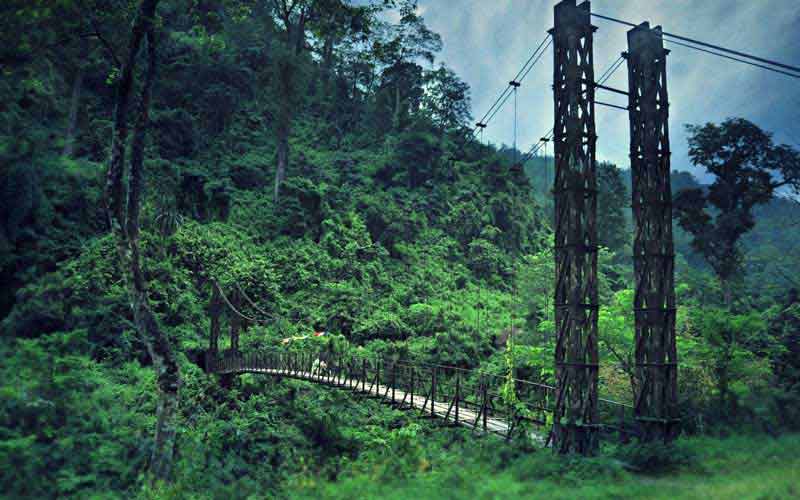 Nestled close to Indo-Bhutan border in the western part of Dooars at a distance of 112km from Siliguri overlooking river Jaldhaka and hills of Bhutan is a scenically blessed hamlet called Paren. Surrounded by the green lofty hills with alpine forest, rolling green meadows and meandering rivers along with tranquil ambiance making Paren a dream destination for any nature lover. Hidden in the far edge of Himalaya Paren with its surreal beauty is a less trodden destination making it ideal for the tourists who are looking a retreat amidst the nature free from tourist rush.
Trekking routes in Paren
Located on the way to Bindu the journey towards Paren is filled with the pictorial view of changing landscape which ranges from deciduous rain forest to lush green tea garden and the plain region convert to hillside which is a visual treat for the tourists. Endowed with abundance of gorgeous green forests, rocky mountain terrain, hilly rivers, agricultural lands, and quintessential villages Paren with enthralling beauty has captivated the mind of travelers who have visited Paren. Residing amidst the hilly region and thick wooded forest of alpine trees, Paren is dotted with trekking route the famous one being Rachella Pass via Alubari and Lava which has attracted many trekkers towards Paren. Rachella is known for harboring many natural lakes. The trek towards Rachella Pass from Paren is an ideal trek where tourists can enjoy the adventure of trekking into the dense untouched areas of Neora Valley Forest and border areas of Bengal, Sikkim and Bhutan. Apart from trekking, tourist can relish the beauty of nature in Paren, through short jungle walk leading them towards Dalgaon, Gairibas and Rongo which flourishes with medicinal plant making it a paradise for the botany enthusiast. The jungle walk is filled with the chirping of exotic Himalayan birds and sighting of colorful butterflies. There are many pictorial destinations around Paren within short distance of 10-15km which add up to the charm of Paren trip. The famous Jaldhaka River is just 10 km away and the Hydel Power Station at nearby Bindu is the first Hydel Power station in India bordering India and Bhutan. From here tourist can catch a glimpse of the picturesque Bhutan hills and its mesmerizing landscape and a rocky, river terrain marked by the confluence of River Bindu and Jaldhaka. Located 14km from Paren is the Cardamom curing centre of Bindu where tourist can see the finest cardamom being processed and dyed before shipping it. Prior to reaching the cardamom curing centre from Paren, tourists can also visit the Gairibas Diascorrea Plantation a nursery which house numerous medical plant found in Himalayan region. Although blessed with pictorial location Paren is still a tourist rush free zone making it an ideal location for spending a laid back weekend while relishing in the serene ambiance of Dooars region. From going on a short trek through the alpine forest to the astounding view of lofty mountain hill Paren has it all making it the epitome of nature bound place in Dooars.
Engulf yourself sense with the tranquil ambiance and fresh mountain air while being lulled by the alluring chirping of exotic birds. If you are looking for place untarnished by the modernized society where you can find the solitude and be close to the nature then Paren in the western part of Dooars region is the ideal destination for you, where nature can be seen in its pristine form.
Best Time to Visit Paren
Blessed with temperate weather, Paren can be visited throughout the year, but it is best to avoid the monsoon season from mid June-September if tourists want to partake in activities like trekking and jungle wake. To catch the glimpse of orange orchards of Khasmahal bursting with the vibrant color of ripe orange from Paren, the best time to visit is during the harvesting season October and February.